"Christ has … no hands but yours…Yours are the eyes through which the compassion of Christ is to look out on a hurting world." - Teresa of Avila -
Our History

The history of Great Falls United Methodist Church can be traced back to two churches organized here in the Great Falls, Virginia area during the nineteenth century. The first, Salem Church, was established in 1876 near our present location on Georgetown Pike. Arnon Chapel was erected in 1889 near the corner of Arnon Chapel Road and Walker Road. Each church ministered to the residents of the then rural area surrounding Forestville (as the Great Falls community was known at that time). In 1944, as World War II dominated the news, Salem Church and Arnon Chapel merged to form Forestville Methodist Church and the combined church was established at our present site. In January of 1989, the congregation voted to change the name to Great Falls United Methodist Church reflecting the change in the name of our community. While we are proud of the long history of our church, age alone doesn't qualify a church as great. A great church is made by its congregation, and Great Falls United Methodist Church is made great by the families and individuals, past and present, which call this church home. Please join us!
---
Our Mission
A Summary of Our Church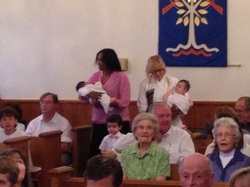 Our church has many strengths. Among them is the sense of warmth and Christian Fellowship that you will experience once you've entered the comfortable and intimate sanctuary. The congregation at Great Falls shares a sense of community and maintains a relaxed, small town atmosphere. This provides a much needed shelter from the surrounding urban turbulence. We take our call to "make disciples" seriously and so provide numerous opportunities for individuals of all ages to
grow
in their knowledge and love of Jesus Christ. These activities take place on Sunday morning, as well as at various times through the week.
In addition to seasonal activities we provide
Bible studies
,
women's circles
, a
men's group
,
Youth Fellowship
, a Preschool, Vacation Bible School and a variety of
outreach
and
mission opportunities
. The church also hosts numerous community programs including the Great Falls Senior Center, Boy Scouts, Girl Scouts, and Alcoholics Anonymous.
Sunday worship
is held at 10:00 AM. Childcare is provided from 9:00 to 11:00 AM for children two years and younger. During the worship service, children of all ages are invited to gather for a children's message and then children in kindergarten to fifth grade are excused to
Children's Sunday School
, while Child Care is provided for preschool aged children. Crayons, coloring pages and Children's Bulletins are available for children who remain for the service of worship with their parents. Coffee fellowship is held each week in the Fellowship Hall after the service of worship.
Christian Education
takes place from 9:00 to 9:45 a.m. for adults and 10:10 to 11:00 a.m. for children through fifth grade from September through June.
Our church
choirs
play an integral part in our worship services. The
Chancel Choir
provides leadership for weekly worship services and practices regularly on Wednesdays at 7:30 p.m. The
Handbell Choir
meets from September to June on Wednesdays at 6:30 p.m. Youth and adults are welcome to participate.
Outreach
efforts are not only wonderful opportunities for fellowship, they are also vital to an effective church.
In addition to supporting groups such as Cedars and Boy
Scout and Girl Scout Troops, we hold annual events such as
Vacation Bible School, which
reaches many children in Great
Falls. In December, we sponsor a
Christmas Pageant that helps to
bring the focus of Christmas back
to the birth of Jesus. Reaching out
to our neighbors and loved ones is
not simply a good thing to do, it is part of our mission
statement, which instructs and directs us to make "a difference
in lives by sharing Christ with the community."
As the hands and feet of Christ, Great Falls UMC supports many mission projects in the United States and globally, including:
Two missionaries, one located in Southwestern Virginia and the other in Mozambique;
Cornerstones, formerly Reston Interfaith, and its Embry Rucker Shelter via collections of food, clothing, diapers, formula and other items;
Wesley Housing Development Corporation, which provides affordable housing for low-income families and persons;
Art for Humanity via collections of shoes, computers/flat screen monitors and other household items, which are sent to Honduras;
Mission/Outreach Sunday (hands-on, local service projects);
A Mission Team to Guatemala for older Youth and Adults;
The Jeremiah Project for Middle School Youth;
Adult mission trips to Mississippi to assist with Hurricane Katrina restoration;
A School supply drive as part of Vacation Bible School.
---